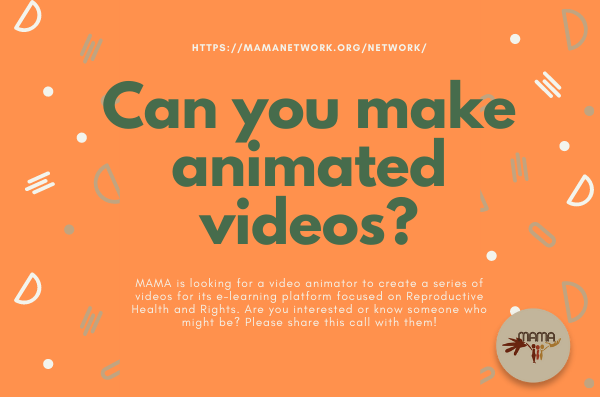 Mobilizing Activists around Medical Abortion – MAMA – Network is a collaboration of grassroots activists and feminist groups based in Sub-Saharan Africa. The MAMA Network represents a regional movement of activists working to share evidence-based and stigma-free information about self-managed medical abortion and sexual and reproductive health and rights directly with women on community level.
As part of its work on information sharing, MAMA has developed its own E-learning platform, accessible only to its members, with videos, quizzes and live Q&A sessions on different subjects relevant to its goals.
Looking into improving the materials provided, MAMA is now hiring a video animator.
Scope of work:
 Developing illustrations for MAMA's animated videos
 Animating 5 videos of around 8 minutes each according to the script provided.
Qualifications and experience:
 Ability to communicate in English (French is an asset)
 Proven experience in developing animated videos
Interested applicants should submit their proposals stating their experience in a similar position, including 1 or 2 samples of work they have done and a budget to coordinator@mamanetwork.org on or before March 18th. We regret that only shortlist applicants will be contacted.
If you have any questions or concerns regarding the scope of work, please don't hesitate to reach out on the email above.