Aunt KAKI is aiming at increasing the availability of life-saving sexual reproductive health information on safe, equitable, pleasurable sexual life and not limited to comprehensive abortion care and legal aid referrals. 24/7.
Toll Free : 0800 24 72 47(MTN) / 0800 34 73 47(Airtel)
Website: https://www.coherinetug.org/aunt_kaki/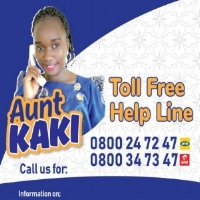 Through Aunt KAKI helpline, people from the community grass root levels are offered with reliable and accurate information to bridge the gap of accessing reliable and friendly sexual reproductive health rights services which has been always a challenge at the grass root communities of Uganda. The toll free helpline call centre is providing non-judgmental and clear information about the choices available to women of reproductive age from the Priority and Key Affected Populations groups from the community grass root levels. Aunt KAKI Helpline is a 24 hours a day, 7 days a week live counseling and a referral option herb on sexual reproductive health rights information in English, Luganda, Runyankole, Luo and Swahili offering information to our target groups aiming at empowering and enabling more and more grass root women or men of reproductive age in Uganda to make safe and healthy choices for themselves minus being forced or blind folded in their decisions making. Aunt KAKI Helpline simply provides information, referrals, counseling and resources to enable women/ men and young people act in their OWN best interests on issues related to their sexual reproductive health decision making.